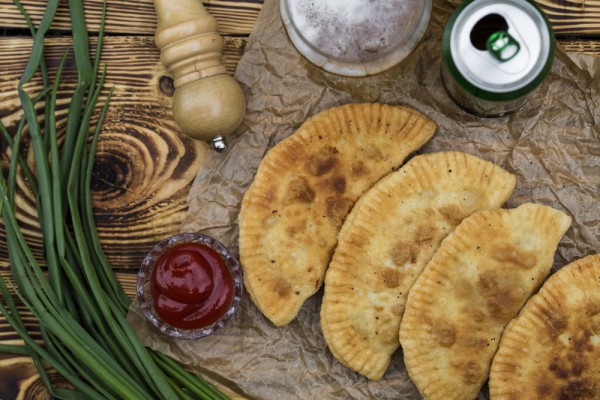 In fact, the pasties are large fried pies with meat, for cooking which uses unleavened dough.
Ingredients
Flour: 500 g
Water: 250 ml
Vegetable oil:
Minced meat: 300 g
Salt: to taste
Onions: 1 PC.
Broth: 4 tbsp.
Greens:
Cooking time: 120 minutes | Number of servings: 4-6 servings
Cook the pasties at home is not difficult, with the stuffing can be not only classic meat, for example, with cheese, rice and egg, vegetable with pumpkin. To pasties failed, you need two main ingredients: the dough and the stuffing. IVONA will tell you how to cook the dough for pasties, so they turned out juicy. The stuffing for chebureks it is better to prepare yourself by choosing quality meat.
Cooking
Sift the flour with salt, add water and 1 tbsp oil.
Knead the dough, wrap it in clingfilm and leave for 1 hour at room temperature.
Finely chop the onion, chop the greens. Add to the mince, mix well.
Seasoning with salt and pepper.
Cover the bowl with minced meat wrap , put into the refrigerator for half an hour.
Knead the finished dough, divide into equal parts, roll them into balls.
Roll each dough ball into a thin tortilla.
Spread on one half of the tortillas 2 tbsp minced, stepping back from the edge by 2 cm.
Lubricate the edge with cold water, cover the second half. Walk along the edge with a fork by pinching the dough.
Cover the pasties with a towel so that the dough does not zavetrilos.
Heat the pan vegetable oil, fry the Taco on each side.
Put ready pasties on paper towels to drained excess oil.