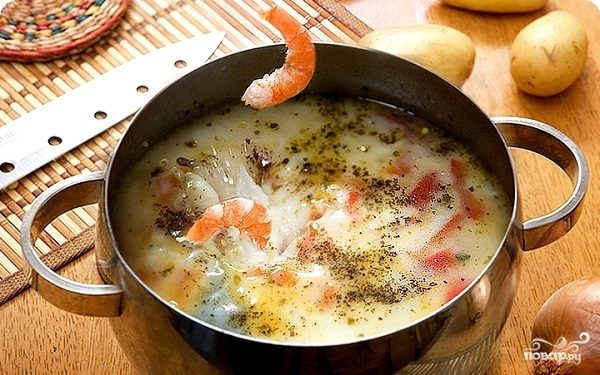 Want for lunch to make a delicious, very easy and delicious dish? I recommend to try the soup called seafood cocktail with cream at home.
Description of preparation:
1. The first thing you need to pour into a small pan with water and bring to boil. Add a pinch of salt, a Bay leaf and any other spices to taste. 2. Spread seafood cocktail away without defrosting. 3. Squeeze the juice of half a lemon and add water. 4. In a separate saucepan bring to boil the cream. 5. To remove the cream from heat and add cheese. The mass was homogeneous, process everything in a blender. In the recipe of seafood soup with cream, you can also add spices to taste. 6. In skillet, heat butter. Clean bell pepper and cut into small cubes. Spread into the pan. 7. Wash green onions and chop. Add to peppers, mix gently and sauté on a medium heat. 8. Seafood drain in a colander and transfer to a cream. 9. The broth in which the cooked seafood, a thin stream pour in the cream. 10. Place them in a pan of roasted vegetables. Boil for about 2-3 minutes. Season with salt and pepper and add dried herbs to taste. That's all soup "Sea cocktail" with the cream at home ready. Serve it best with crackers.
Ingredients:
Seafood cocktail — 300 Grams
Sweet pepper — 1 Piece
Lemon — 1 Piece
Cream — 150 Ml
Butter — 50 Grams
Processed cheese — 50 Grams
Bay leaf — 1 Piece
Salt — 1 Pinch
Pepper — 1 Pinch
Dried herbs — 1 Pinch
Green onions — 1 Bunch
Servings: 4-6
Order in the Platypus, beginners profitable!