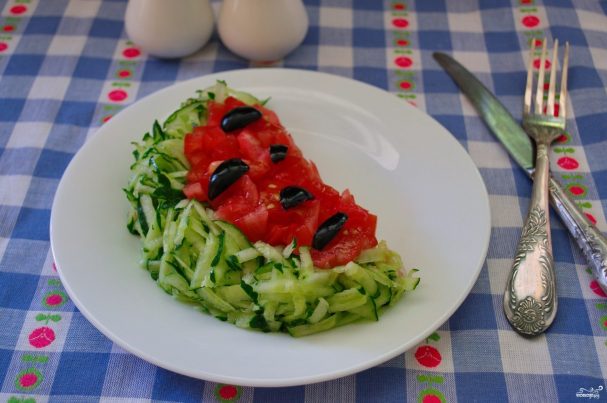 Salad Watermelon slice – fresh, not bored with the idea of a beautifully decorated festive salad. It turns beautiful, original and tasty. Simple salad recipe Watermelon slice – your attention!
Description of preparation:
So, how to prepare salad "Watermelon slice": 1. Boiled chicken fillet cut into small cubes. 2. Boil until cooked eggs, finely-finely chop. 3. RUB cheese on a coarse grater. 4. On a beautiful dish put layers of salad in the shape of a watermelon slice. You ingredients mix with mayonnaise and a part of crushed olives, but you can wykorzystaj layers. The order of the layers next: chicken; eggs; cheese. Each layer do not forget to miss the mark with mayonnaise. 5. It remains to decorate salad. Tomato cut into small cubes – this will be the watermelon flesh. Cucumber RUB on a coarse grater, squeeze from the liquid, round grated cucumber side salad is like watermelon rinds. Olives cut in half and spread, such as the bones. That's the complexity – simple salad "Watermelon slice" is ready! 🙂
Ingredients:
Chicken fillet — 300 Grams
Hard cheese — 100 Grams
Eggs — 3 Pieces
Mayonnaise — 200 Grams (or to taste)
Tomato — 1 Piece
Olives — 10 Pieces
Cucumber — 1-2 Pieces
Servings: 6
How to prepare "Salad Watermelon slice"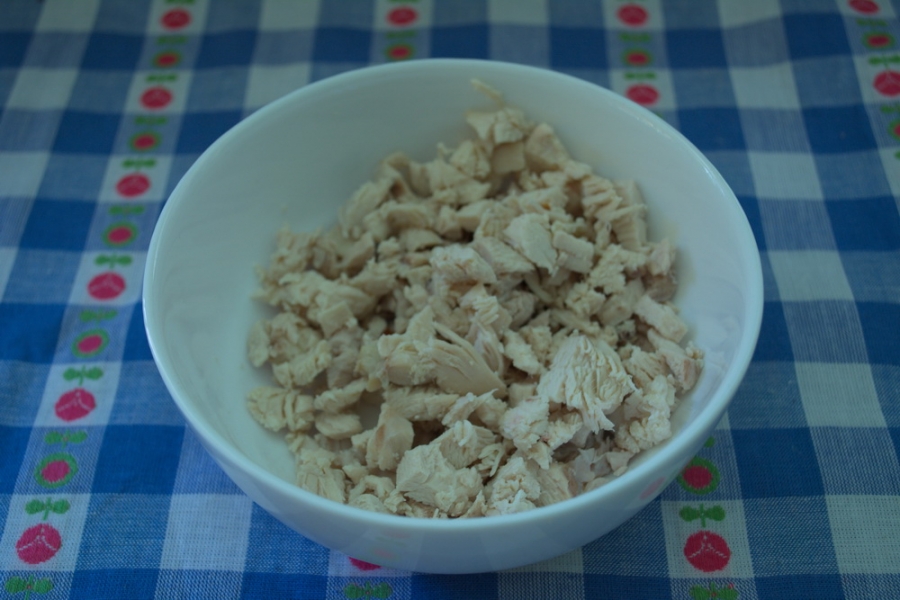 1. Boil the chicken. Remove bones, remove the skin. Meat cut finely. Delicious salad, if you take meat from the leg of a bird.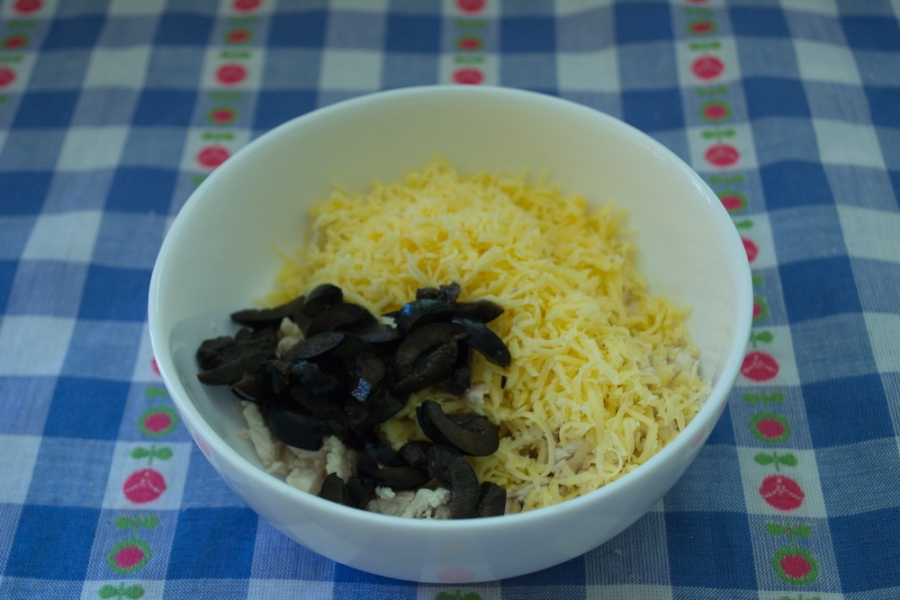 2. Boiled eggs grate. Grate cheese. Connect poultry, cheese, eggs. Add the chopped olives.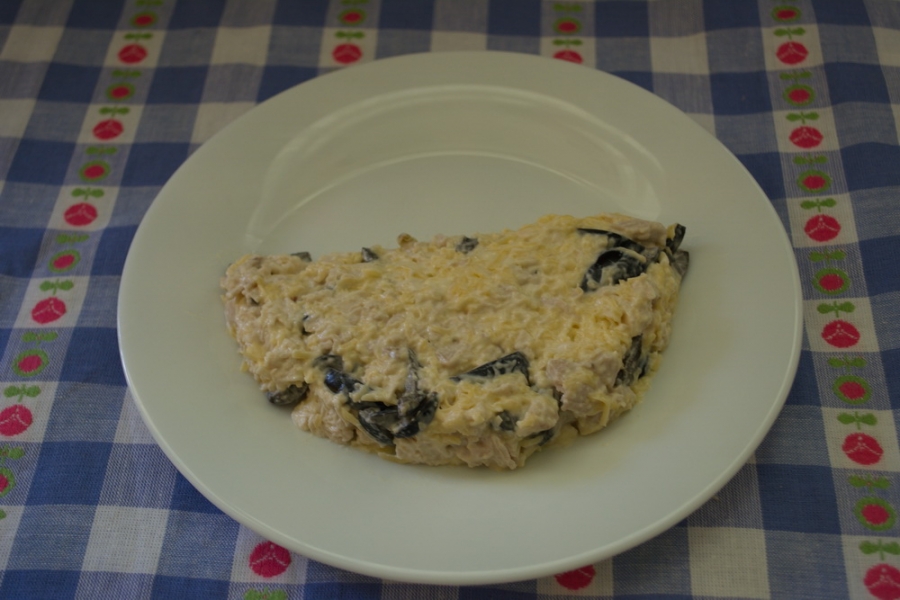 3. Season everything with mayonnaise. Mix. From the resulting mass on a flat plate put some semblance of slices of watermelon.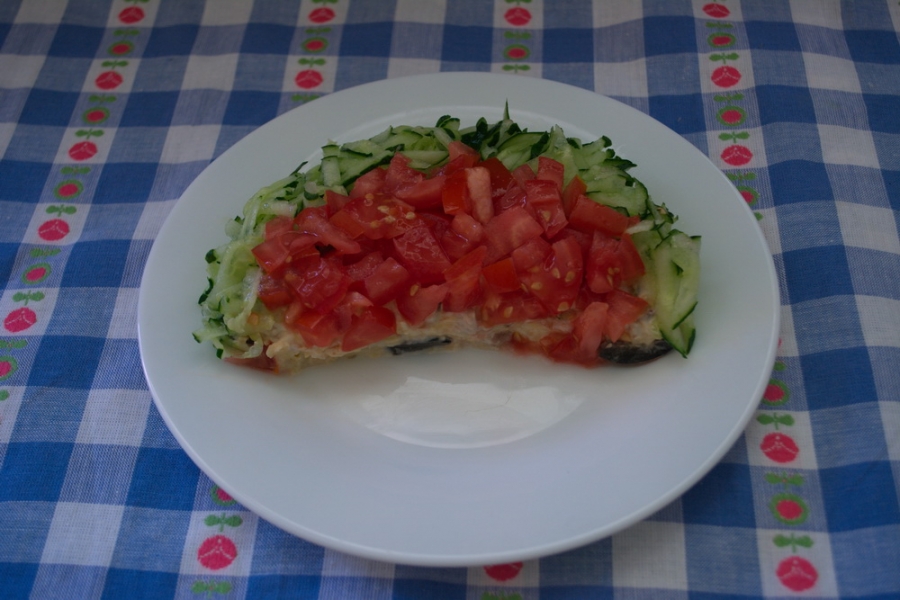 4. Finely chop the tomatoes dice. It is better to take the elastic, fleshy tomato. It gives less juice and more dense. Fresh cucumber grate. The Central part of decorate slices of tomato, and cucumber.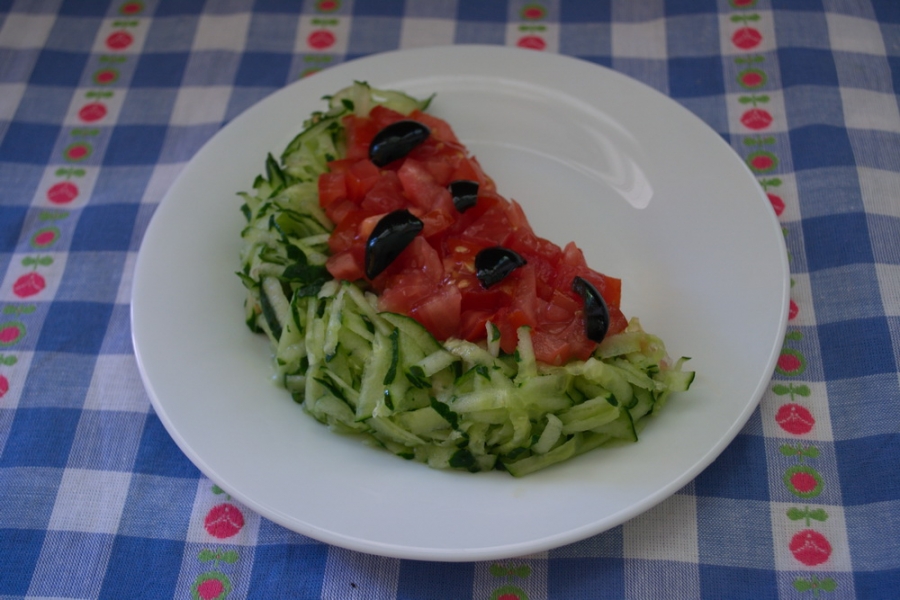 5. 2-3 olives make a sort of watermelon seeds. Lay the slices of olives on top.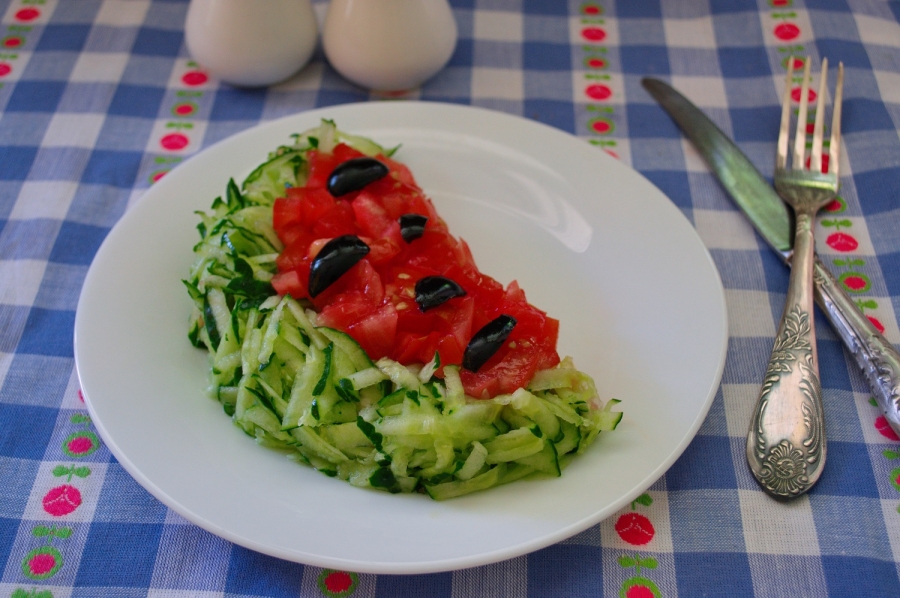 6. Serve the salad to the table. The salad was delicious and elegant. Bon appetit! Serve the salad cooled need.