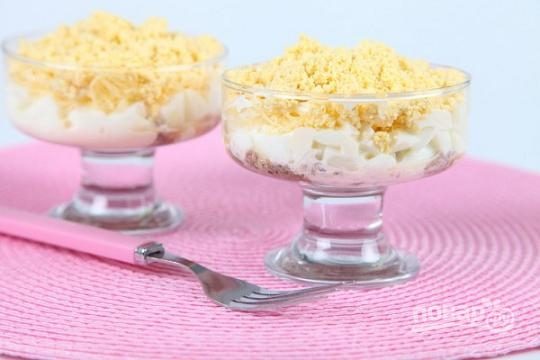 Although this salad consists of simple ingredients, it is considered festive. There are many variations, tell you about one such how to prepare salad "Mimosa" (very fine).
Description of preparation:
The salad consists of products that are always in the fridge except fish canned, but they are sold in the shop. You can use sardines, saury, and are also more expensive varieties of fish: salmon, tuna, and salmon. You can make a salad with fresh fish or canned. All the ingredients are put in layers, and then insist the salad a few hours.
Ingredients:
Eggs — 6 Pieces
Canned sardine — 240 Grams
Hard cheese — 150 Grams
Mayonnaise — 200 G
Butter — 100 Grams
Onion — 1 Piece
Servings: 4
How to cook the "Salad "Mimosa" (very fine)"
1. First, boil the eggs, then cool and peel. Separate the whites from the yolks.
2. Canned fish mash with a fork and place on the bottom of the form, grease it with mayonnaise.
3. On top of the fish put grated on a coarse grater, chicken proteins, lubricate them with mayonnaise.
4. Finely slice the onion, sprinkle it on the whites. Add half of the chopped egg yolks and brush them with mayonnaise.
5. Pre-freeze the butter, then grate it on a coarse grater, put the next layer.
6. Garnish salad with remaining egg yolks and send for 2 hours in the refrigerator. That's all, enjoy!