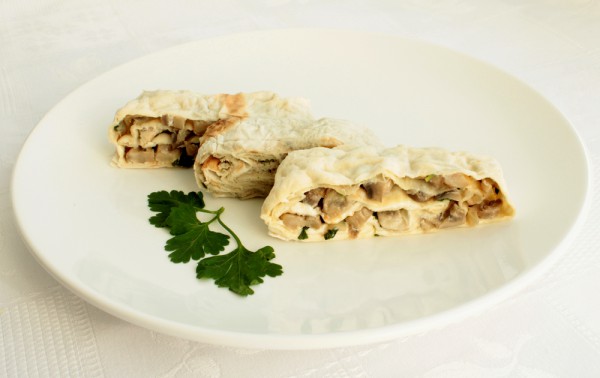 A tasty appetizer stuffed with wild mushrooms. Ready lavash is possible to grease with sour cream and bake until Golden brown in the oven.
Ingredients
thin Armenian lavash: 4 PCs.
boiled wild mushrooms: 1 kg
processed cheese: 4 PCs.
onions: 1 PC.
greens: 1 bunch
mayonnaise: pack of 1
garlic: 5 cloves
vegetable oil: for frying
Cooking time: 30 min | servings: 8 servings
1. The mushrooms and onions finely chop, fry in vegetable oil until soft. Cool.
2. Garlic clear, skip through the press and mix with mayonnaise.
3. Processed cheese grate, chop greens.
4. Grease one sheet of lavash mayonnaise (3-4 tbsp), put 1/4 part of the fried mushrooms, grated cheese and herbs.
5. Rolled into a roll. In the same way to prepare the rolls of the remaining ingredients.