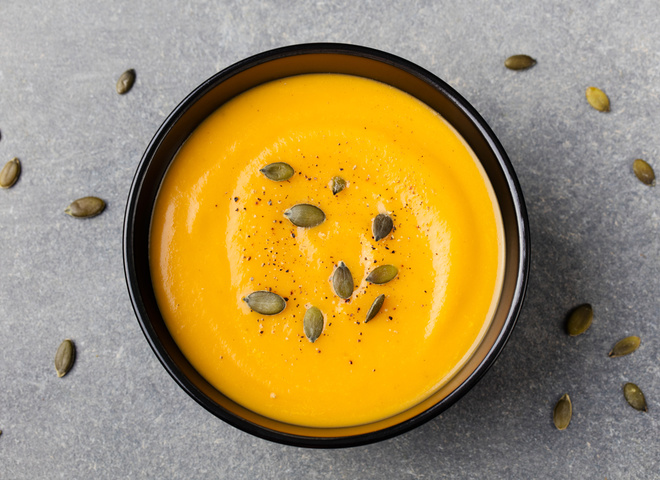 For anybody not a secret that the soup must be present in the diet of each person, and if he is prepared on the basis of such a useful vegetable like a pumpkin, the dish will bring your body a double favor. Edition tochka.net offers to your attention a recipe for soft, thick and delicious pumpkin cream soup.
A plate of this hearty and nourishing soup for lunch will warm you on a cold day, will add energy and health to you and your family, because pumpkin is an incredibly useful product. So try to include in your diet as much as possible a variety of healthy dishes made from pumpkins.
Little secret of this first course is that pumpkin cream soup the next day become even tastier.
Pumpkin cream soup – ingredients:
500 g pumpkin,
200 g potatoes,
1 onion,
greens,
1 teaspoon ground ginger,
300 ml milk
400 ml of water,
1 tbsp vegetable oil
ground black pepper,to taste
salt to taste.
Pumpkin cream soup – cooking:
Clean the pumpkin from the skin, fibers, seed and cut in small pieces.
Potatoes are also cut in small cubes. Onions finely cut. Grind the herbs.
In a skillet in vegetable oil onion passerby 5 minutes. Add potatoes, pumpkin, stir and pour boiling water so that it covers the vegetables.
Soup salt, pepper and boil on a slow fire until soft vegetables, about 20 minutes.
Drain some of the water and puriri the soup in a blender until smooth. Then add the hot milk to the soup, stir, bring to boil and then on low heat for 5 minutes. At the end put in the soup chopped ginger.
Serve the cream soup of pumpkin with cream and herbs. With this wonderful soup combines fresh croutons of white bread.
Bon appetit!