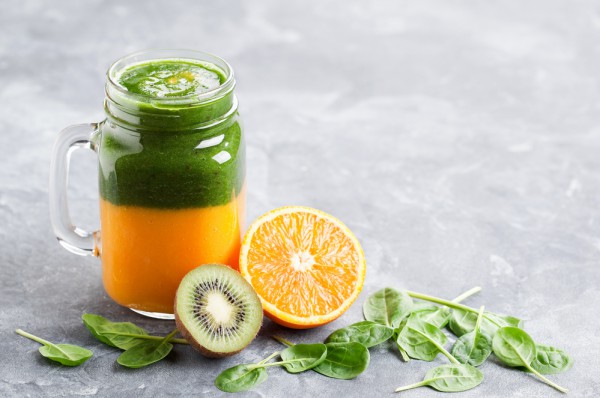 Smoothies with fruit for Breakfast is not only delicious, but also very useful and nutritious. This drink contains large amounts of antioxidants.
Ingredients
frozen mango pieces: 2 1/2 cups
plain yogurt: 3/4 Cup
liquid honey: 1/4 Cup
orange juice: 2 tbsp
grated lime zest: 1/2 tsp
peeled ripe kiwi fruit: 3 PCs.
ice cubes: 2 cups
green tea: 2 tbsp.
spinach: 1/2 Cup
Cooking time: 20 min | servings: 4 servings
1. Place mango, 1/2 Cup yogurt, 2 tbsp honey, 2 tbsp orange juice and the lime zest in the blender. Beat until a homogeneous mass. Pour into 4 glasses, filling them halfway.
2. To wash the blender. Fold it 1/4 Cup yogurt, 2 tbsp honey, kiwifruit and remaining 3 ingredients. Whisk in the mashed potatoes.
3. Gently pour mango mixture, the layers are not mixed. Serve smoothie immediately after preparation.