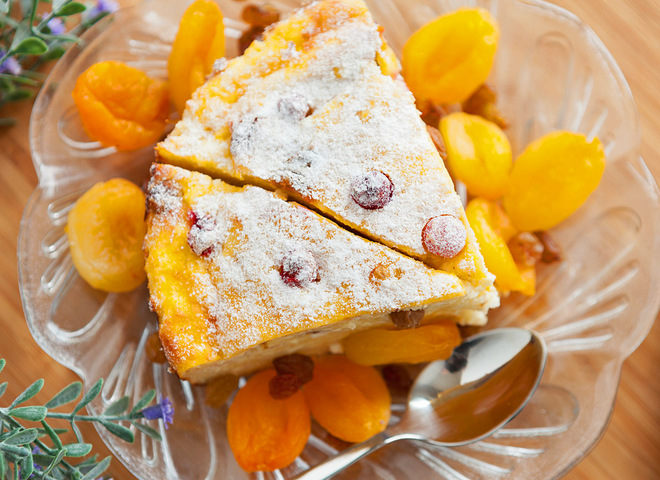 Pie with cottage cheese and fruit or berries – great treats for Easter 2018. In addition to the traditional Easter cake and Easter cheese cake, the recipe of which offers to REPLACE YOUR WEBSITE, wonderfully fit into the Easter menu and will especially please fans of cheese cakes and desserts.
The name "cottage cheese pie" speaks for itself – this means that it uses baking cheese. Moreover, this extremely useful dairy product is added in the dough and in the filling.
The beauty of the recipe is that you can prepare this cheesecake with your favorite fruits in winter and spring you'll have a wonderful cheesecake with apples, pears or dried fruits, and in the summer with apricots, plums, peaches and even meats.
And with the berries he too will be wonderful, just don't forget fresh berries to add a bit of starch, so as not emerged juice. Depending on the sweetness of the chosen fruit correct amount of sugar for the filling.
Gentle and pleasant cheesecake, and even with the addition of fruit has a little trick – it is much tastier cold. Ie to prepare the pie curd is desirable, but it can be stored for a long time (if it will not eat your sweet tooth).
Pie with cottage cheese and fruit ingredients:
for the dough:
150 g of cottage cheese,
300 g flour,
1 egg,
6 tablespoons vegetable oil
1 tablespoon sugar,
10 g of vanilla sugar,
30 g of baking powder,
a pinch of salt,
for the filling:
500 g of fruit (apples, pears, apricots, plums,etc.)
250 g of cottage cheese,
200 g of sour cream,
3 eggs,
3 tbsp. spoons of sugar,
50 g of starch,
3 tbsp. lemon juice
pinch of ground cinnamon.
Pie with cottage cheese and fruit – cooking:
Curd wipe through a sieve. Combine cottage cheese with egg, sugar, vanilla sugar and vegetable oil. Connect the sifted flour with the baking powder and salt. Gradually enter the dry mixture in the cottage cheese and mix everything with a spoon or with a mixer.
Should be pliable and soft dough. Roll out the dough and put it in greased with vegetable oil a baking pan with high edges, forming the edge.
Fruit wash, Obasi, peel and cut in halves, slices or small pieces to your liking.
Proteins separated from the yolks and whip them into a solid foam. Mix yolks with cheese, sour cream, sugar, lemon juice, cornstarch and cinnamon. In the cheese mass carefully enter the beaten egg whites.
The resulting cream put on the dough. The cream is evenly distributed fruit.
Send a pie with cottage cheese and fruit in a preheated 180°C oven and bake for 30-40 minutes.
Ready pie to cool, take out from the mold, decorate with icing sugar and berries and cut into serving pieces.
Pie with cottage cheese and fruit is delicious serve with sour cream, yogurt, kefir or just tea.
Bon appetit!
Earlier, we published the menu for Easter. Browse the best holiday recipes read the link.