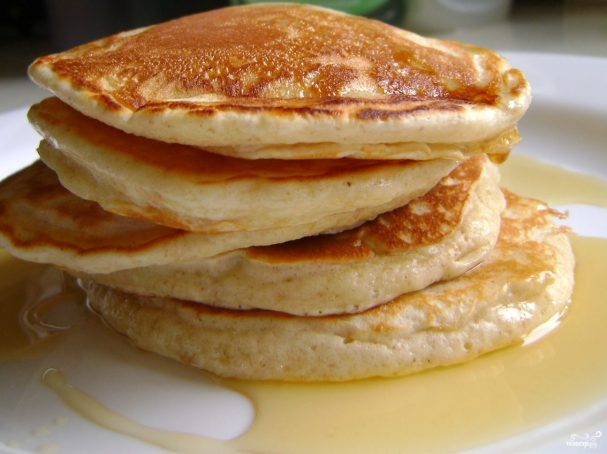 In the morning, especially on weekends, you want to pamper yourself with something sweet, tender, flavorful. Such a treat for me are pancakes with milk and apples. With powdered sugar, honey, jam… Delicious!
Description of preparation:
I often want to sink your teeth into a juicy, warm and soft Browns. Usually I eat them with sour cream and jam, washed down with milk. Just think about childhood! By the way, kids adore this dish! And adults with a sweet tooth, too. Apples for fritters milk, you can cut small or larger as you like. How to cook pancakes with milk and apples? 1. Whisk eggs with sugar until white foam. 2. Add to egg mixture a pinch of salt and milk. Beat with a whisk. 3. Sift the flour and mix with baking powder or slaked lemon juice soda. Add in the egg-milk mixture. Stir in cinnamon and mix thoroughly. 4. Apples wash, peel, stalks and seed boxes. Finely chop or grate on a coarse grater. 5. Apples add to the dough and mix. Let the dough with the apples stand for 10-15 minutes. 6. In skillet, pour vegetable oil and good heat. Pour batter into pan by tablespoon. Fry on both sides 3-4 minutes. Ready pancakes with milk and apples will be Golden brown. The pancakes before serving you can sprinkle with powdered sugar, top with honey, syrup. Serve with your favorite jam and sour cream. Bon appetit!
Ingredients:
Flour — 1 Cup
Milk — 1 Cup
Eggs — 2 Pieces
Sugar — 2-3 Tbsp. spoons
Apples — 2 Pieces
Cinnamon — 2-3 Pinches
Vegetable oil — 50 Ml
Baking powder — 1 teaspoon
Salt — 1 Pinch
Servings: 3-4