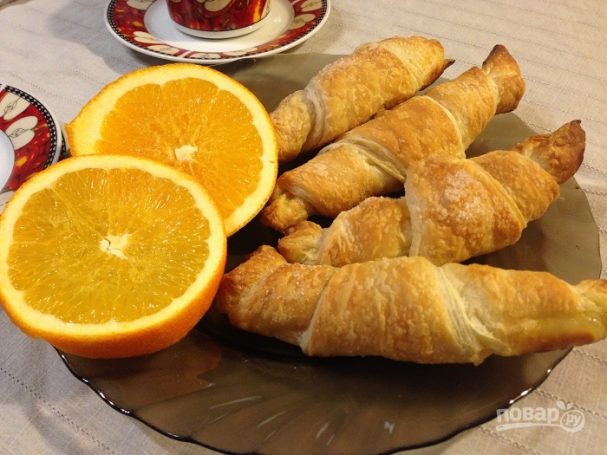 There is nothing better for a Cup of tea than a warm and flavorful baked goods, do you agree? So let's quickly cook for the whole family fragrant orange croissants. Very easy and very fast!
Description of preparation:
These crunchy and crispy French croissants like that, isn't it? These can be baked with toppings, sweet and salty. I'll tell you how to cook orange baked croissants, delicious and flavorful. I did them two ways and I liked the ones in which sugar is added to the filling and sprinkled on top. They are more dry and crumbly. You should try both methods and choose the one you like best.
Ingredients:
Puff pastry — 150-200 Grams
Orange — 1/3 Pieces
Sugar — 2-3 Teaspoons
Servings: 2-4
How to prepare "Orange croissants"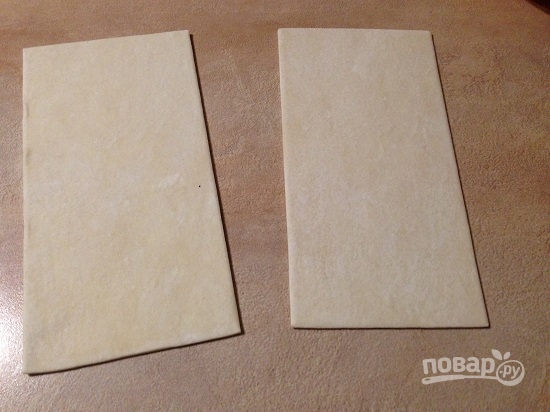 In my freezer always has a ready made puff pastry. Croissants can be prepared from both normal puff and puff dough. I prefer the croissants from the usual puff pastry. Take the dough out of the freezer and let thaw.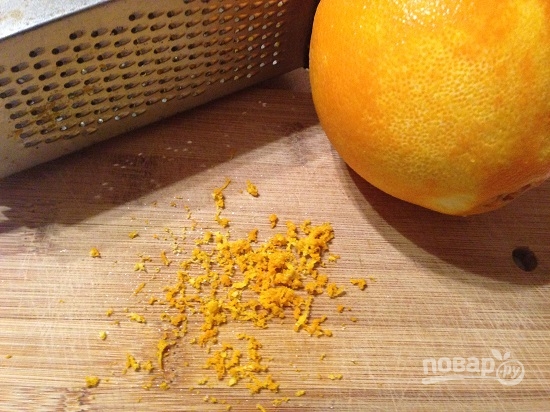 Carefully, so as not to catch the white part, take a small grater zest from the orange. We will need about half a teaspoon of zest.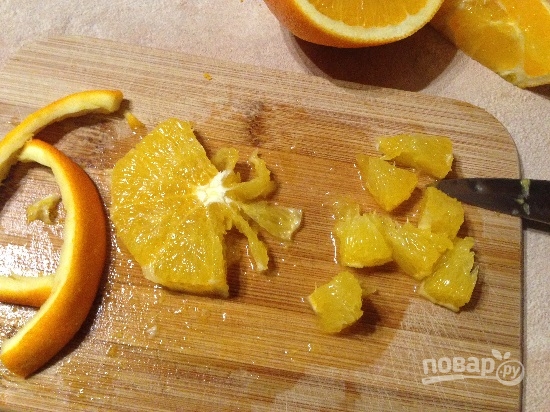 Cut from an orange slice-a spacer thickness of about 1 cm And with a sharp knife cut the orange "fillets", cutting off of the ear.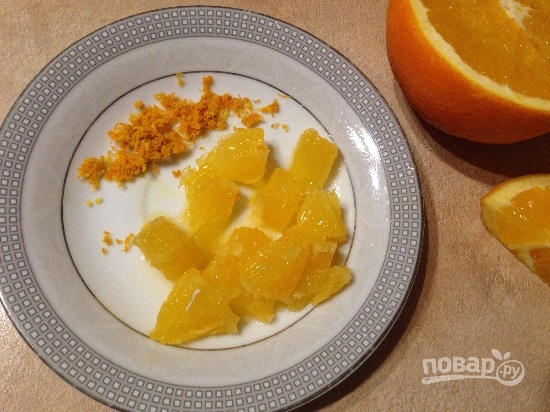 Every croissant I put 4-5 slices of fillet, but the orange I used was large.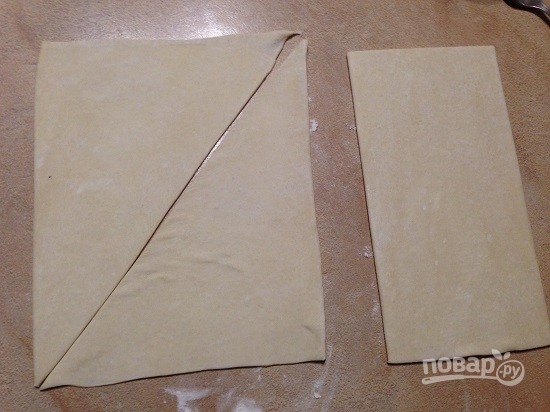 Lightly roll out the dough giving it the shape similar to a square. For comparison, photo paper factory size, and the second rolled out. Cut diagonally into two triangles.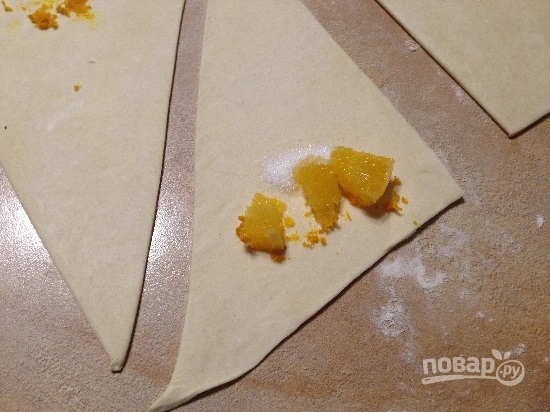 Spread on a wide part of the triangle a quarter of the peel and quarter the orange fillet. Add one-third teaspoon of sugar.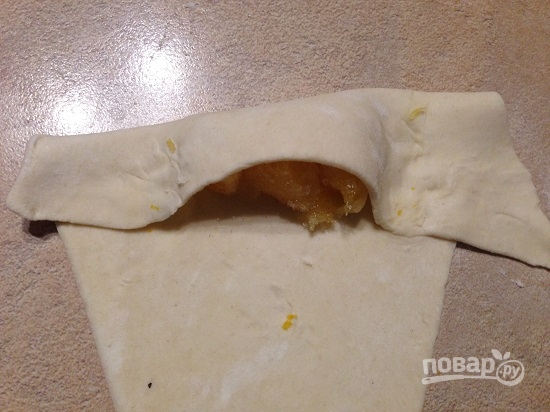 And begin to form the croissant. So juice does not leak and does not burn when baking, lightly press the dough around the filling.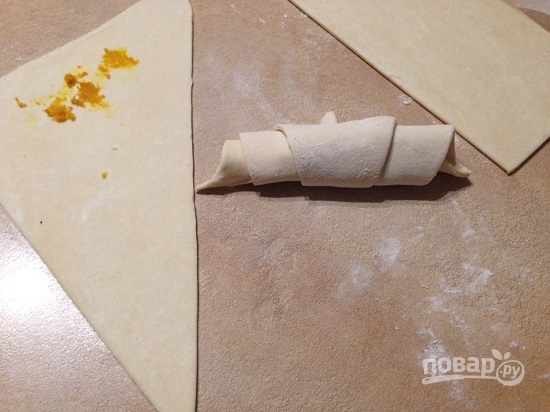 And roll the dough into a bagel-croissant.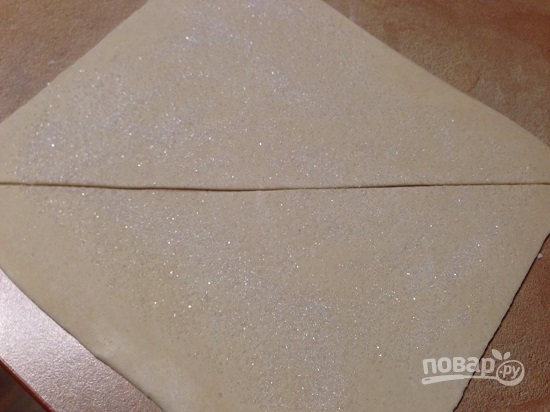 The following two croissants I've done a little differently – sprinkled sugar on the dough and lightly rolled with a rolling pin. And the oranges, the sugar is not added (was experimenting). And then all the same – put the zest and the orange and roll into a bagel.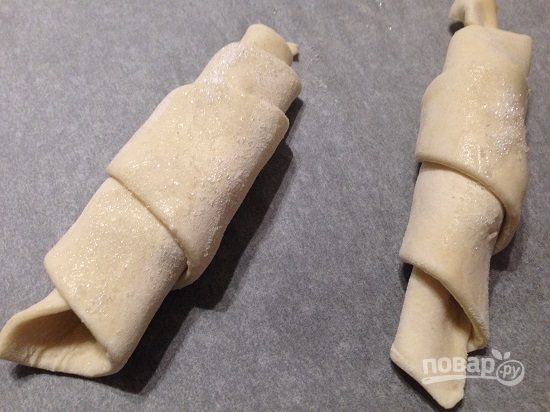 The croissants, in which the filling was sugar, I top brush soaked with water and sprinkled with sugar. Also experimenting 🙂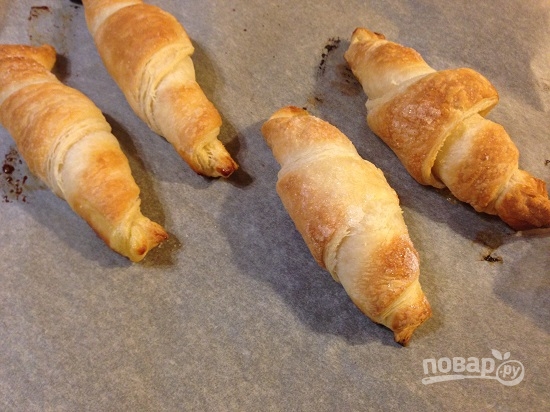 Put the croissants on a baking sheet, the laid parchment and bake in a preheated 200 degree oven for 15-20 minutes until a beautiful Golden color.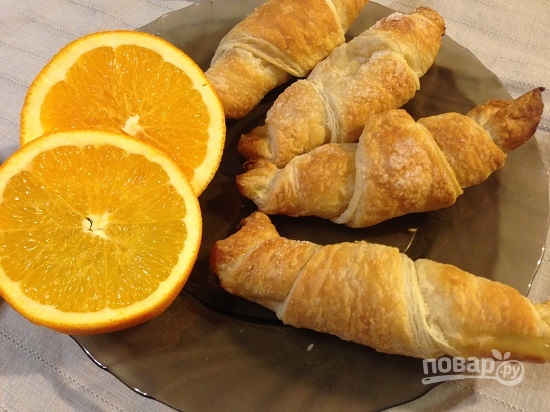 Fragrant and delicious orange croissants are ready! It's time for tea!

Inside they are very juicy, flavorful and delicious!