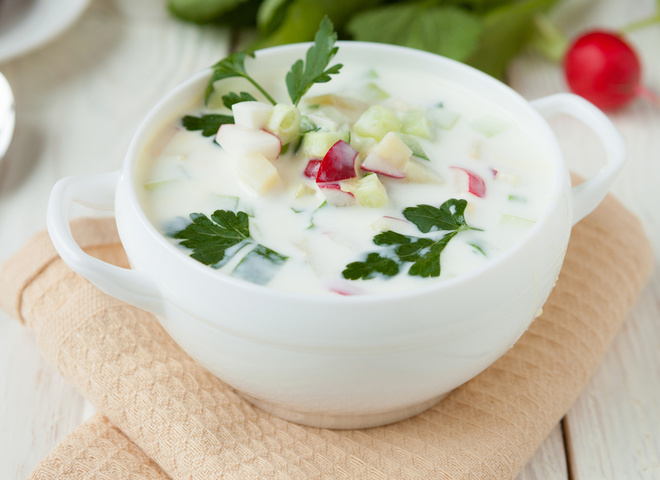 Prepare okroshka kefir recipe from the editors to REPLACE YOUR WEBSITE. It will help you to cheer up and cool off, especially in hot weather.
Options hash exists very much in the kefir, kvass, mayonnaise and even on mineral water.
I think in the heat you will have the opportunity repeatedly to sample all the tastes of hash – from classical sausage and meat before the Lenten diet. Today we offer to your attention a hash on yogurt. Try it!
How to cook okroshka on kefir ingredients:
1 liter of kefir,
200 g of boiled chicken,
3 eggs,
3 potatoes,
2 cucumbers,
200 g radish,
bunch green onions,
bunch of greens (dill, parsley),
ground black pepper,to taste
salt to taste.
Okroshka on kefir – the recipe:
Boil the potatoes in their skins, cool, peel and cut small cubes. The eggs boil hard boiled, cool and finely chop, leaving one egg for decoration of the hash.
Boiled meat cut in small pieces. Radish RUB on a coarse grater. Cucumbers cut small cubes. Green onions and herbs finely cut.
In a deep container put all the prepared ingredients, salt, pepper, pour the yogurt and mix. If the hash on yogurt turned out too thick, dilute it with boiling water.
Put the container in the fridge for 15-20 minutes to get ready okroshka on kefir has rested and cooled.
Pour hodgepodge on plates, decorate with egg and herbs.
Bon appetit!
See videorecipe how to cook okroshka on kefir: