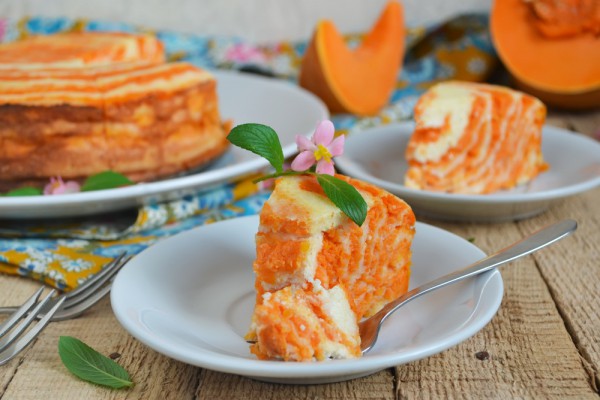 In order that the casserole was more aesthetically pleasing, pre-draw a ray with a toothpick.
Ingredients
For the cheese part::
cottage cheese: 500 g
sugar: 100 g
corn starch: 1 tbsp
eggs: 2 pieces
Pumpkin parts::
pumpkin puree: 500 g
eggs: 2 pieces
corn starch: 1 tbsp
sugar: 100 g
zest of one orange:
Cooking time: 60 min | servings: 6 servings
1. In blender, chop cheese and sugar, add eggs and starch.
2. Wash pumpkin, wrap in foil and bake for about an hour, cool and remove with a spoon the pulp.
3. Pumpkin puree, sugar and orange zest chop in a blender. Add eggs and starch, mix well.
4. Detachable form grease with oil and lay a parchment. In the center of the form put alternately the cheese and pumpkin weight.
5. Bake 50 minutes at 180 ° C. Before serving, cool completely.