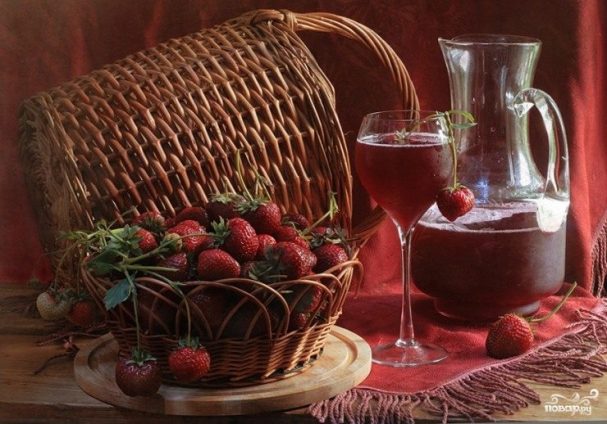 Well, the summer came, and with it has come the strawberries. Someone buys it on the market, and someone has already collected your first harvest. These lucky people will be interested to learn a simple recipe of fruit liqueurs from strawberry — its wonderful taste and aroma will remind you of warm June days, when the window already is snow.
Description of preparation:
To prepare such cordials like nothing better than strawberries and sugar, because the zest and vanilla add to wish. And it turns out great easy drink a couple of shots which didn't hurt anybody 🙂 Traditionally, infusion of strawberries is considered a female drink, but men also do not refuse from it 😉 How to make a strawberry infusion: 1. Strawberries thoroughly wash — ideally each berry separately under running water. Prune all wrinkled and damaged places, if any, detachable sepals. 2. Lay the berries in three-liter jar, add the zest and vanilla, to fall asleep sugar. 3. Cover the bottle opening with gauze and fasten it with a rubber band or rope. 4. Leave the jar in a warm place for 2-4 days — until then, until it begins to ferment. 5. As soon as the fermentation process, remove the gauze and set the water trap — you can make yourself from a plastic lid and straw. 6. Move the jar in a dark place for 2-3 weeks before complete cessation of fermentation. 7. Ready infusion is filtered through several layers of cheesecloth and pour into clean bottles and kuparinen corks or caps. 8. Keep the bottles in a cool dark place — a cellar or storage. Ready! 🙂
Ingredients:
Strawberry — 2 Kg
Sugar — 700 Grams
Lemon peel — 1 Piece (optional)
The vanilla pod — 1 Piece (optional)
Servings: 10-20
Order in the Platypus, beginners profitable!