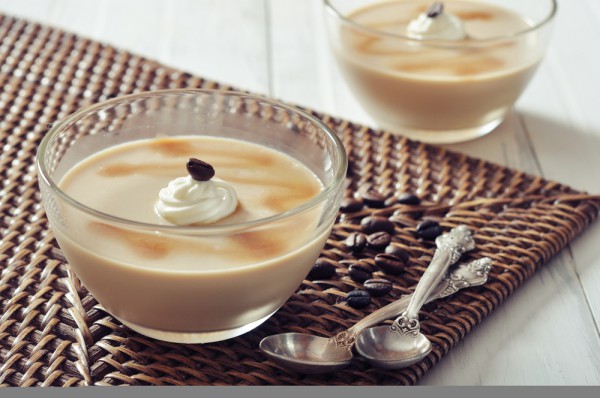 Panna cotta (from Italian "cooked cream") is a dessert that appeared in Northern Italy, namely Piedmont, decades ago.
Ingredients
Cream: 2 cups
Gelatin: 1.5 tbsp
Soluble coffee: 4 tsp.
Sugar: 1/4 Cup
Salt: a pinch
Whipped cream:
Cinnamon:
Coffee beans: for feeding
Cooking time: more than 180 min | servings: 4 servings
A delicacy prepared from cream, sugar, gelatin and vanilla, but is not a cream, but rather a creamy pudding. To make the dessert froze, previously used boiled fish bones. And since sugar was very expensive, the Panna cotta was cooked perfectly savory. In cuisines, there are recipes for desserts like Panna cotta, for example, Bavarian cream is also made from milk and cream with added gelatin. French blancmange is very similar to Panna cotta, but instead of cow's milk use almond.
To prepare the Panna cotta is no need to stock expensive products, also preparing the dessert very quickly and doesn't require culinary skills. So, all the ingredients, except the gelatin, mix and cook on low heat. After adding the gelatin mass is poured into molds and put in refrigerator until firm. We offer the recipe for coffee Panna cotta.
Preparation:
Pour the cream into a saucepan.
Sprinkle with gelatin, let stand for 5 minutes.
Put on medium fire, heat, stirring until gelatin is dissolved. Do not boil.
Add coffee, sugar, salt.
Cook on low heat until the sugar dissolves.
Remove from heat, cool slightly.
Pour into glasses, cover and refrigerate for 6 hours.
To serve, garnish with ground cinnamon, whipped cream and coffee beans.