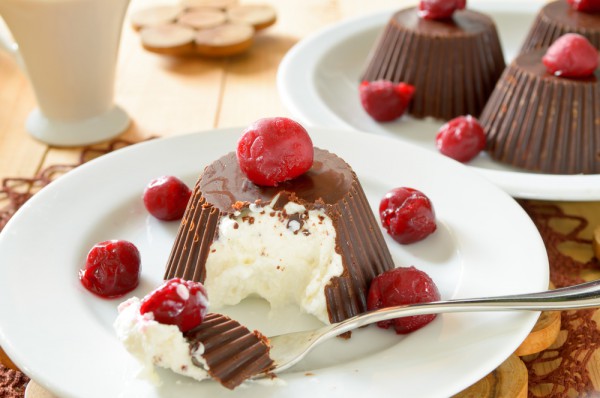 To cook a sweet glazed cheese at home is quite simple. Just need to find suitable molds.
Ingredients
curd: 250 g
condensed milk: 100 g
dark chocolate: 100 g
butter: 60 g
vanillin: pinch
Cooking time: more than 180 min. | Number of servings: 5 servings
1. Mix in a heatproof bowl, 100 grams of chopped chocolate and 10 grams butter. Melt in a water bath or in a microwave oven. To mix until obtaining a homogeneous mass.
2. With a cooking brush grease 5 silicone molds with a capacity of 80 ml melted chocolate. Put in the freezer for 10 minutes.
3. Apply another layer of chocolate and return to freezer for 10-15 minutes.
4. Pour the curd into a bowl, add 50 g of soft butter, condensed milk and a pinch of vanilla. Beat immersion blender until smooth.
5. Fill the ramekins with the cheese mass, a little before reaching the top. Gently flatten the curd with a knife or spatula. Brush with remaining chocolate (if it hardened in the bowl, it will need more time to warm up).
6. Put the cheese in the fridge for a few hours.