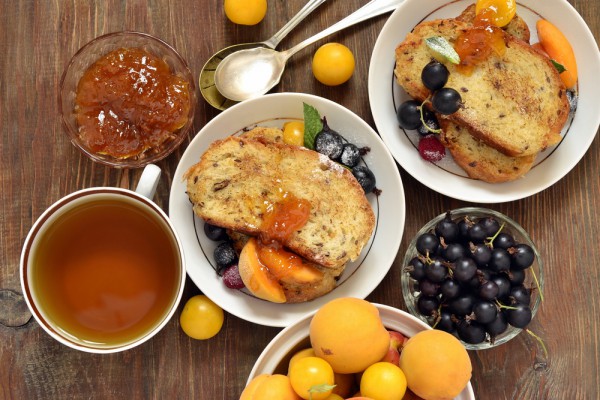 A great option for a weekend Breakfast or a light snack in the everyday work. Jam can be prepared not only apricots, but also for any other berries or fruit.
Ingredients
cream: 150 ml
bollocks: 4 PCs
sugar: 50 g
ground cinnamon: 1/2 tsp.
butter: 1 tbsp
vegetable oil: 2 tbsp
toast bread: 4 slices
Camembert: 125 g
berries and/or apricots : for filing
For jam::
apricots: 200 g
sugar: 75 g
water: 100 ml
the juice of half a lemon:
Cooking time: 15 min. | Number of servings: 2-4 servings
1. For jam apricots are cleaned from bones and cut into slices. Add the sugar, water and lemon juice. Cook over medium heat, without disturbing, for 15-20 minutes until thick. From time to time, gently remove from the surface of the formed foam. If desired, the finished jam beat with a blender until smooth and allow it to cool.
2. Whisk or mixer the eggs with cream, sugar and cinnamon until smooth. To the resulting mixture spread on one toast and allow them to soak for minutes.
3. Fry the toast in a mixture of oil and butter until Golden brown for 2-3 minutes on each side.
4. Ready toast spread on a tablespoon of jam and a few slices of cheese. Optionally decorate with slices of fresh apricots or berries.