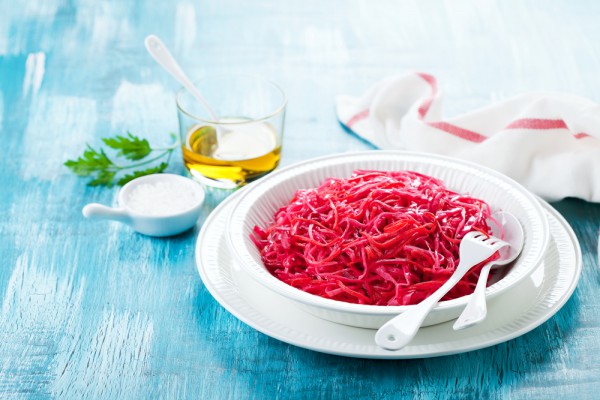 Easy cabbage salad and raw beetroot with Apple, garlic and herbs. It's delicious with rye bread.
Ingredients
cabbage: 200 g
raw beetroot: 1 PC.
small Apple: 1 piece.
garlic: 1-2 cloves
the juice of half a lemon or 1 tbsp Apple cider vinegar:
salt: 1/2 tsp
sugar: 1/2 tsp
chopped parsley: 2 tbsp
Cooking time: 35 min | servings: 4 servings
1. Cabbage to wash and very finely chopped. Add salt and a good grind hands.
2. Add peeled and grated beets, crushed garlic, grated Apple, lemon juice (or vinegar) and sugar. Mix well and let the salad stand for 15 minutes.
3. Before serving, optionally garnish with chopped parsley.