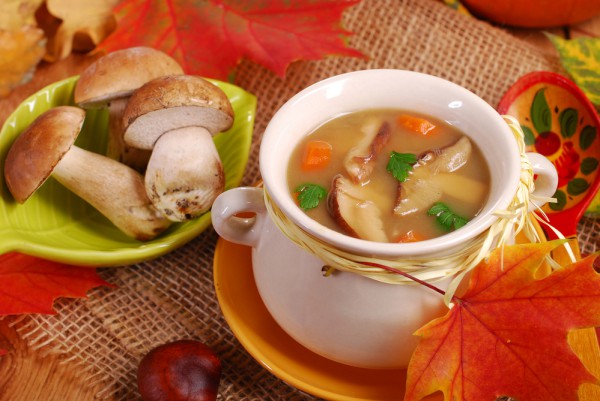 For flavor, add mushroom soup chopped coriander, parsley or Basil.
Ingredients
forest mushrooms (mushrooms, white mushrooms): 300 g
onion: 1 PC.
raw egg yolk: 1 PC.
cream: 500 ml
flour: 2 tbsp
butter: 50 g
salt, pepper: by taste
vegetable oil: for frying
carrot: 1 PC.
chopped fresh herbs: on request
water: 350 ml
Cooking time: 60 min. | Number of servings: 3 servings
1. Mushrooms to sort, wash and cut into large chunks.
2. Onions and carrots clean, chop and fry in a pan in vegetable oil until soft. Add the mushrooms and fry until Golden brown.
3. Pour 300 ml of hot water and simmer for 15 minutes. A few mushrooms aside for decoration.
4. In a separate saucepan, RUB the flour with butter, pour 50 ml of water and boil until thick.
5. Add mushroom mixture along with the liquid, season with salt and pepper and cook for 5 minutes.
6. Yolk vzbit with sugar and cream. All the while stirring, add to the soup. Bring to boil and remove from heat.
7. To blend the soup until a homogeneous mass.
8. Before serving, embellish the soup with mushrooms and chopped greens.