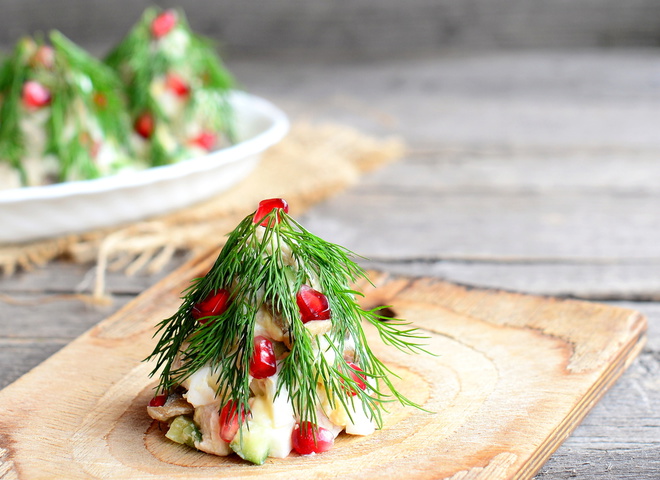 Christmas salad "Tree" with a prescription from to REPLACE YOUR WEBSITE get both original, simple and delicious. And what's more, when on the threshold of a New year is 2017, and I want to surprise visitors with new and unexpected taste, appearance and flow?
Thus we offer you to include in the menu for New year 2017 a La carte salad "Tree", whose recipe combines such interesting products as cod liver oil and pomegranate seeds.
Christmas salad 2017 "Tree" – ingredients:
1 can (240 g) cod liver
4 eggs,
4 tablespoons of rice
2 onions,
3 tbsp of pomegranate seeds (seedless),
3 tablespoons of canned green peas,
bunch of fresh dill,
100 g of mayonnaise,
0.5 teaspoon of sugar
0.5 teaspoon of vinegar
ground black pepper,to taste
salt to taste.
Christmas salad 2017 "Tree" – the recipe:
Cook the rice in plenty of salted water until tender. Dump the water, rinse the rice with cold water so it does not slip.
The eggs boil hard boiled, cool, peel and finely crumble.
Get out of the jar cod liver oil, grind it with a fork. Oil while not.
Very finely cut onions. Put it in a sieve, rinse with boiling water, went to the bitterness and let the water drain off. Then spray the onions with vinegar, sprinkle with sugar and leave for 10 minutes to promarinovatsya.
Combine rice, eggs, cod liver oil, peas and onions. Salt, pepper, add a little oil from the jar, fill with mayonnaise Christmas salad and mix.
On a platter laid out servings of salad, forming a small hill. You can use a spoon or plastic Cup.
Each serving of the new year decorate the salad with pomegranate seeds and sprigs of dill, forming a tree.
Bon appetit and happy New year!
See videorecipe Christmas salad "Caesar":