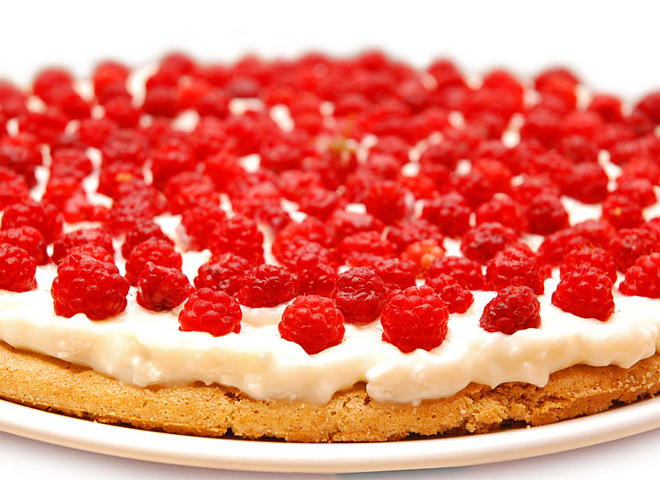 Try the cake with raspberries on a simple recipe from to REPLACE YOUR WEBSITEin which the delicate combination of berries and curd mass is unlikely to impress fans of tasty.
Raspberry – one of the favorite summer treats for many of us. And no wonder, because it is not only delicious, but also extremely useful berry. Its healing properties are widely known and used in medical, cosmetic, and of course culinary purposes.
Traditionally, raspberries used for making delicious desserts, including pies and cakes.
Simple cake with raspberries ingredients:
for the dough:
200 g flour,
100 g butter,
1 egg,
1 tablespoon sugar,
vanilla,
a pinch of salt,
for the filling:
300 g raspberries,
300 g fat cottage cheese,
2 eggs,
1 teaspoon of starch,
2 tbsp. powdered sugar,
vanilla.
Cake with raspberries – recipe step-by-step:
Put egg, sugar, salt, vanilla, combine with soft butter and flour.
Knead the dough. It has the consistency should be soft.
Prepare stuffing. For this curd grind through a sieve. Then in curd add eggs, cornstarch, half powdered sugar, vanilla and mix well until smooth.
In a greased form put the dough in the cake and put in a preheated 180-200°C oven for 20 minutes.
Get the cake, top off with cottage cheese stuffing and again put it in the oven, now for the top grille to the filling is cooked and the crust doesn't burn. Bake at 150°C for 15 minutes.
Get a pie, on top put the raspberries and sprinkle the remaining powdered sugar.
Again send a cake with raspberries in the oven for 5-7 minutes to berry grabbed heat.
The finished cake with raspberries and leave to cool and serve with tea.
Bon appetit!
See videorecipe mint cake with raspberries and strawberries: