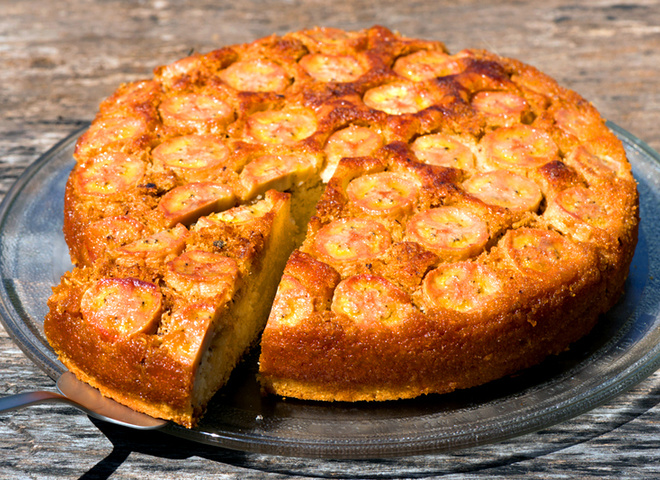 Pie with bananas, the recipe of which offers to REPLACE YOUR WEBSITE for you, especially if you love bananas.
From bananas, you know, you can make lots of interesting desserts.
And today, try this exotic fruit in baked goods in the form of banana cake. It is quite easy to prepare, but the taste is simply amazing!
This pastry turns out very tender, flavorful and delicious. A special charm and mystique to give her banana slices that are browned on top and cooked inside.
Banana cream pie − ingredients:
2 bananas,
500 ml of kefir
1 tbsp butter,
330 g of semolina,
180 g of sugar,
10 g of vanilla sugar,
a pinch of soda,
a pinch of salt.
Cake with banana recipe:
Combine yogurt with sugar, vanilla sugar and salt.
Mix semolina with baking soda, add to liquid mixture and mix it well.
Bananas cleanse from the rind and cut slices thickness of 1,5-2 see
Pour half of the batter into greased with butter and sprinkled with semolina form. Spread on the dough part of the banana and pour the remaining batter. On top of the cake put the remaining banana slices.
Send banana cream pie in a preheated 180°C oven and bake for 40 minutes.
Banana cake is ready let it cool, get out the form and submit.
Bon appetit!
See videorecipe banana soufflé with passion fruit: